new
Free Bird
Toffee apple, Cherry, Hazelnut
Bean

Single origin coffee beans

Origin

Fazenda Pinhal - Brazil

Process

Natural
Order in the next for delivery this week
24hr tracked / letterbox-friendly delivery

100% recyclable paper packaging

Roasted to order every Tuesday
Delivery Info
All our coffees are roasted to order, and right now, we roast once a week on a Tuesday. On Wednesday morning we taste all the roasts that are due for delivery to check they're tasting great before sending them out.
Delivery is £2.95 or free for orders over £20. Our delivery service is Royal Mail Tracked 24, meaning delivery time averages 1 working day. Your coffee will likely arrive on Thursday, but occasionally Friday. If your coffee doesn't arrive within this time frame, then get in touch at hello@taylorsofharrogate.co.uk
We have recently added a 240g bag option to all our coffees, but we don't yet have labels for these bigger bags across our entire range. While we manage this transition, if you order a 240g bag of certain coffees in the range, you may receive 2 x 120g bags 
ingredients
100% Arabica Coffee Beans. For maximum freshness, drink as soon as possible. If you have any left, just reseal the pack and keep in a cool, dark place. Roasted and packed in the UK by Taylors of Harrogate, HG2 7LD.
Grown by long time Taylors partner Pedro Gabarra Teixeria, this yellow bourbon lot is sweet with a silky-smooth body, but with a brighter and more vibrant acidity than your typical Brazilian coffee. One that we'd describe as pleasantly fizzy.
Pedro is a 5th generation owner of Fazenda Pinhal, one of a group of farms he owns and operates in the Minas Gerais region of Brazil.
As well as producing incredible coffee, Pedro and his family are genuine stewards of the natural world. With only 35 per cent of the farm's land devoted to coffee, and the rest preserved as national forest and pastureland, it's no wonder Pinhal was recognised as Brazil's most sustainable coffee farm in 2019.
Origin

Brazil

Region

Sul de minas

Town

Santo Antonio Do Amparo

Farm

Fazenda Pinhal

Grower

Pedro Gabbarra Teixeira

Process

Natural

Altitude

905 - 1160 masl

SCA score

86

Variety

Yellow Bourbon

Acidity

Medium

Sweetness

High

Body

Medium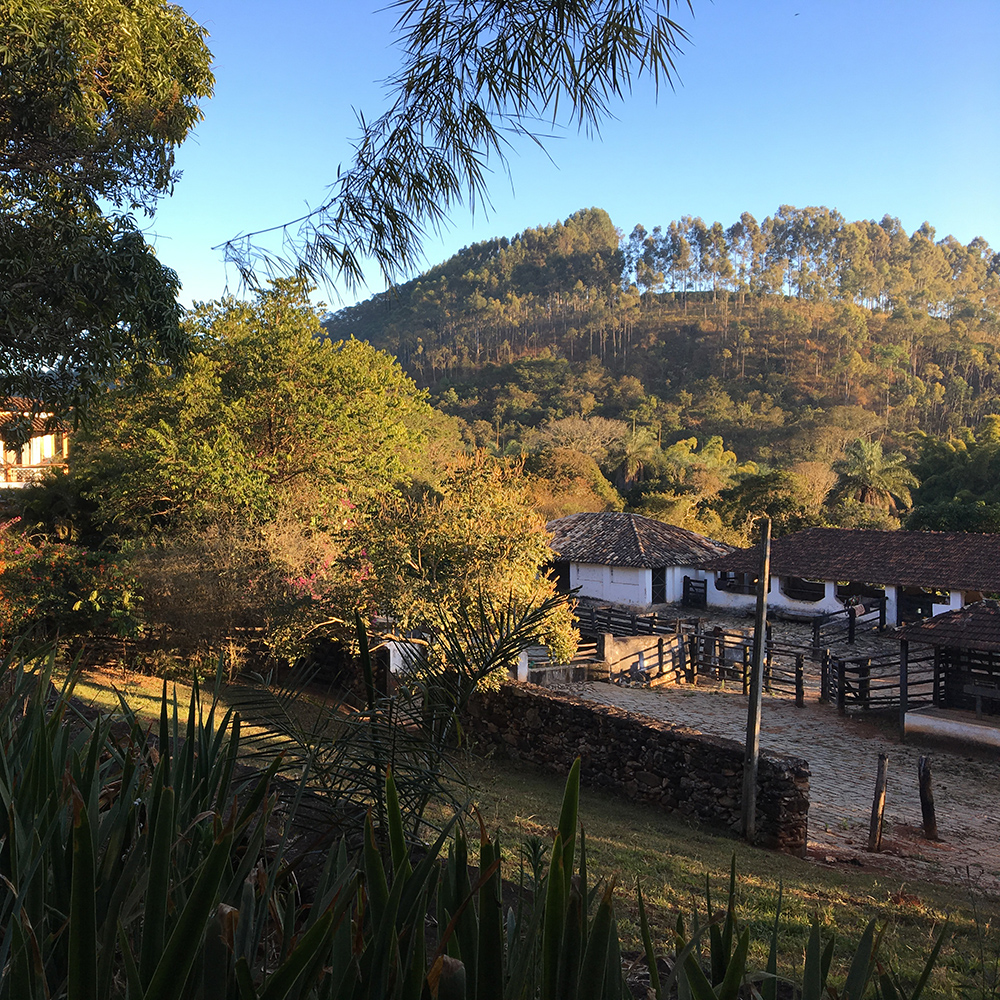 The Producer
PEDRO GABARRA TEIXERIA
Fazenda Pinhal is a 914 hectare farm located close to the city of San Antonio De Ampoaro in Sul De Minas. Its owned and run by the Gabarra Teixeria Family, who acquired the farm in 1994, and employ 49 people in peak season.
Surrounding the coffee farm, which only represents 35 per cent of the farm's total area, is a vast expanse of natural land which the family preserves, protects and invests in. This includes a nature reserve, Eucalyptus forest that's being regenerated and pastureland for cows, as well as a bird aviary and sanctuary that they have set up to rehabilitate injured birds, many of which have been rescued from illegal trafficking.
It's this passion for coffee and the natural world that's kept us buying coffee from Fazenda Pinhal, and Pedro's other farms, for the last 15 years. As well as showcasing specially produced microlots like this one through our Discovery roastery, he is the producer of our Brazil single origin coffee found in supermarkets, and his coffee has been a mainstay in some of our most popular supermarket coffee blends.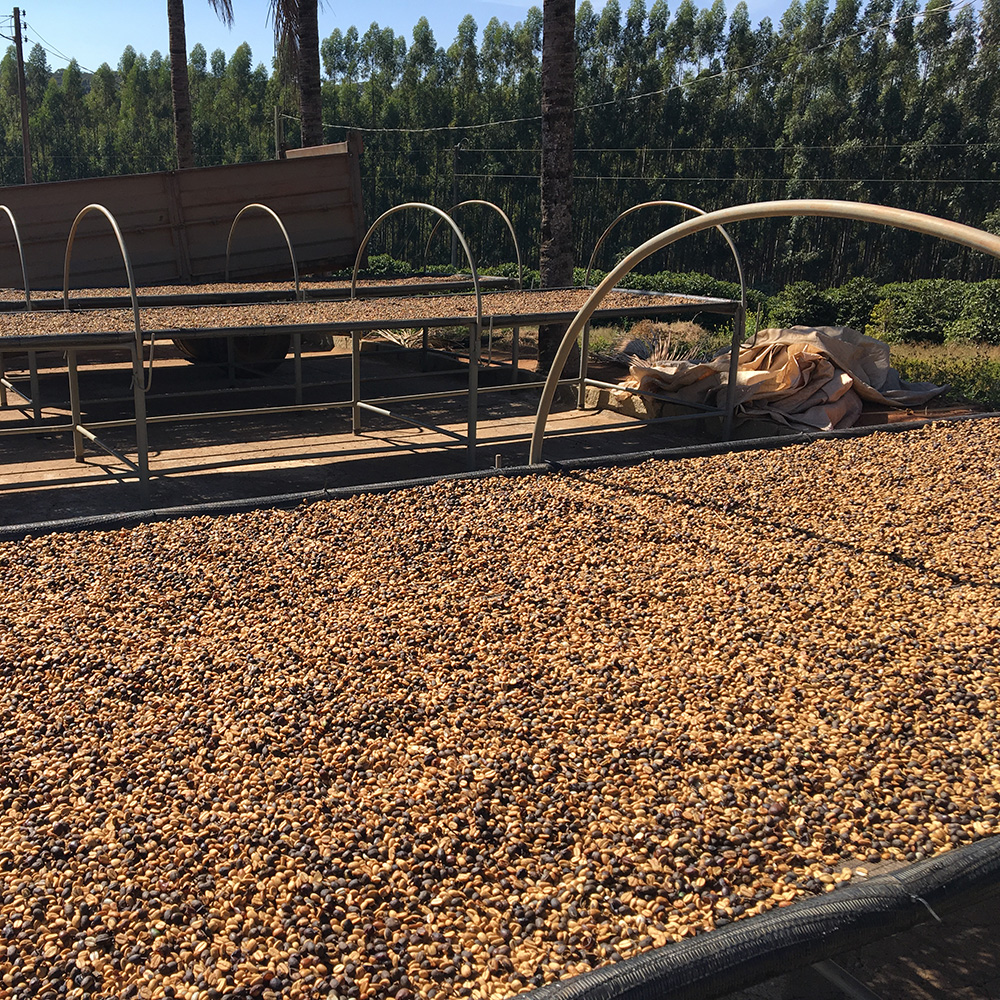 The coffee
While the majority of Fazenda Pinhal's coffee is mechanically picked – the norm for Brazilian coffee – this yellow bourbon microlot was hand-picked for ripeness and hand sorted.
Rather than being transferred straight to a patio to dry after harvesting, as is standard with naturally processed coffees, it has gone through an additional 5-day fermentation, before being dried on African raised beds for 15 days.
We expect this extra fermentation is what gives this coffee its fizzy, almost phosphoric acidity and a brightness that's uncharacteristic of Brazilian naturals.
How to brew
Free Bird
This is a versatile and balanced coffee that works equally well as an espresso shot, the base for a milk drink, or a black coffee. Our best result? We found it to be a brilliant all-day slurper on Aeropress.