Silvio & Luz
Blackcurrant, Red Apple, Butterscotch
Bean

Single origin coffee beans

Origin

Villa Maria and La Esperanza, Huila, Colombia

Process

Washed
Order in the next for delivery this week
24hr tracked / letterbox-friendly delivery

100% recyclable paper packaging

Roasted to order every Tuesday
Delivery Info
All our coffees are roasted to order, and right now, we roast once a week on a Tuesday. On Wednesday morning we taste all the roasts that are due for delivery to check they're tasting great before sending them out.
Delivery is £2.95 or free for orders over £20. Our delivery service is Royal Mail Tracked 24, meaning delivery time averages 1 working day. Your coffee will likely arrive on Thursday, but occasionally Friday. If your coffee doesn't arrive within this time frame, then get in touch at hello@taylorsofharrogate.co.uk
We have recently added a 240g bag option to all our coffees, but we don't yet have labels for these bigger bags across our entire range. While we manage this transition, if you order a 240g bag of certain coffees in the range, you may receive 2 x 120g bags 
ingredients
100% Arabica Coffee Beans. For maximum freshness, drink as soon as possible. If you have any left, just reseal the pack and keep in a cool, dark place. Roasted and packed in the UK by Taylors of Harrogate, HG2 7LD.
Our Collective coffees allow you to invest in the lives and landscapes of our producer network, with funds from the sale of each bag invested in a specific project.
This Collective coffee from our long-standing partners, San Sebastian, is a mixed single origin lot from two of the region's rising star smallholder producers, Luz Adriana Campos and Silvio Chamorro. This stunning washed coffee represents the absolute peak of the crop from these two producers, but basic drying beds mean that they're not able to process larger quantities of their beans at this level. The sale of this lot will fund the production of new drying beds for both these families, helping them produce even higher quality coffee, and sell a larger quantity of their coffee at speciality grade.
Our San Sebastian coffee has always been a well-balanced crowd-pleaser, but this is among the best we've tasted. In the cup, expect juicy blackcurrant, red apple and mandarin notes with a subtle hint of Jasmine, a butterscotch sweetness and a buttery-smooth, full body.
Origin

Colombia

Department

Huila

Town

La Plata

Farm

Finca Villa Maria and Finca La Esperanza

Growers

Luz Adriana Campos and Silvio Chamorrah

Process

Washed

Altitude

1800-1900m

SCA score

86.5

Variety

Caturra

Acidity

Medium-high

Sweetness

Medium-high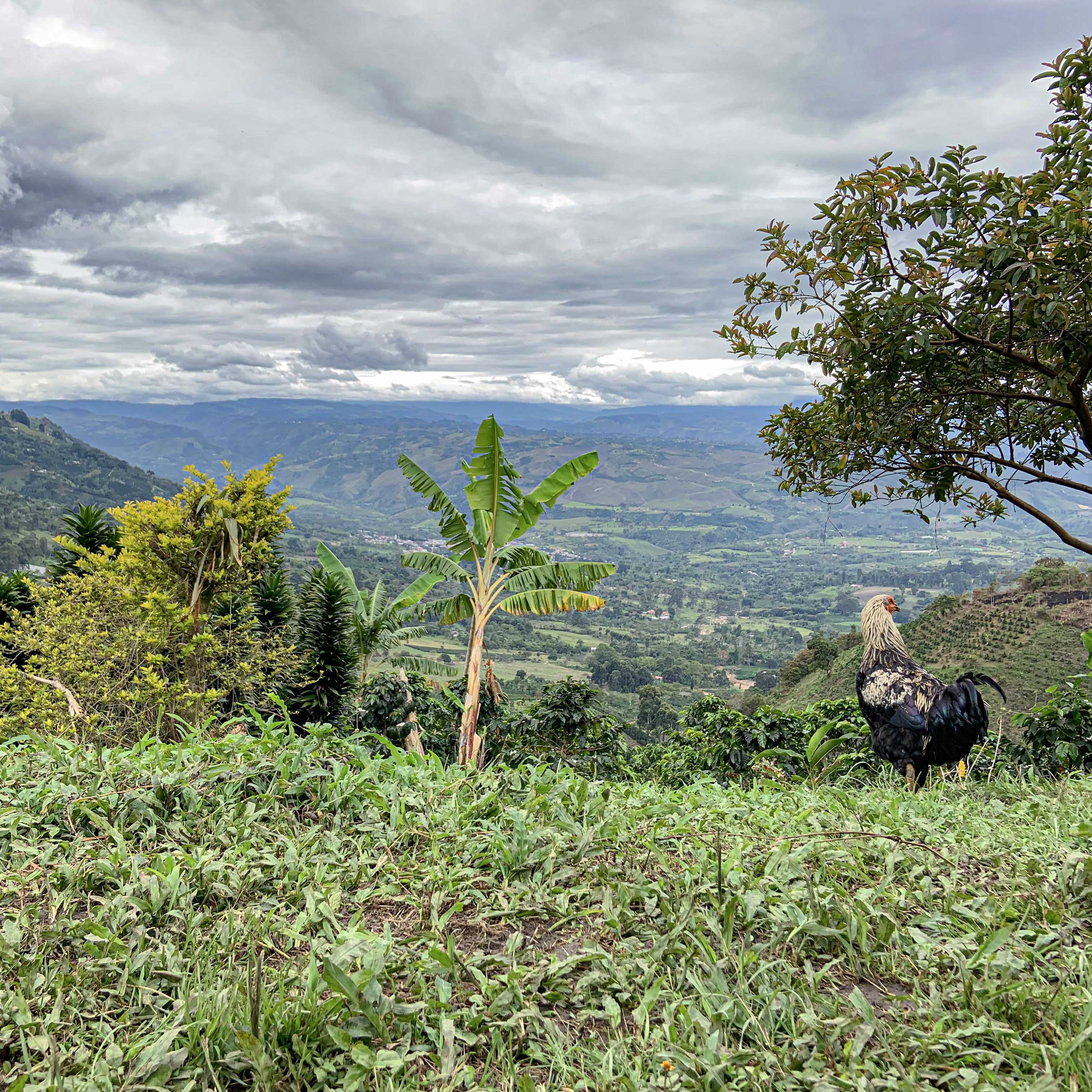 SAN SEBASTIAN COFFEE
San Sebastian is not a region, or a farm. It's a brand of coffee started by our export partners Caravela, to bring together the producers in the La Plata region around a consistent flavour profile and quality. And we're consistently impressed by that quality, which is why we've partnered with them for over a decade - buying larger quantities of their coffee to roast for our single origin supermarket range, and small batches of its very best 'micro-lot grade' coffee for our Discovery range (the one you're reading about).
The operation is run by Occcafe and Global Cafes, two associations that act as buying and training centres for 261 producer members nestled high in the La Plata hills, many of them in remote, difficult to reach locations. When their coffee is ready, farmers pile themselves and their coffee onto a communal truck that picks them up as it winds down mountain and takes them to these stations where their coffee is cupped, graded and paid for.
Over the years we've helped fund a climate change monitoring system for the producer network, training to help them deal with waste-water in an climate-friendly way, and the creation of virtual classrooms that they can use to learn about farm management.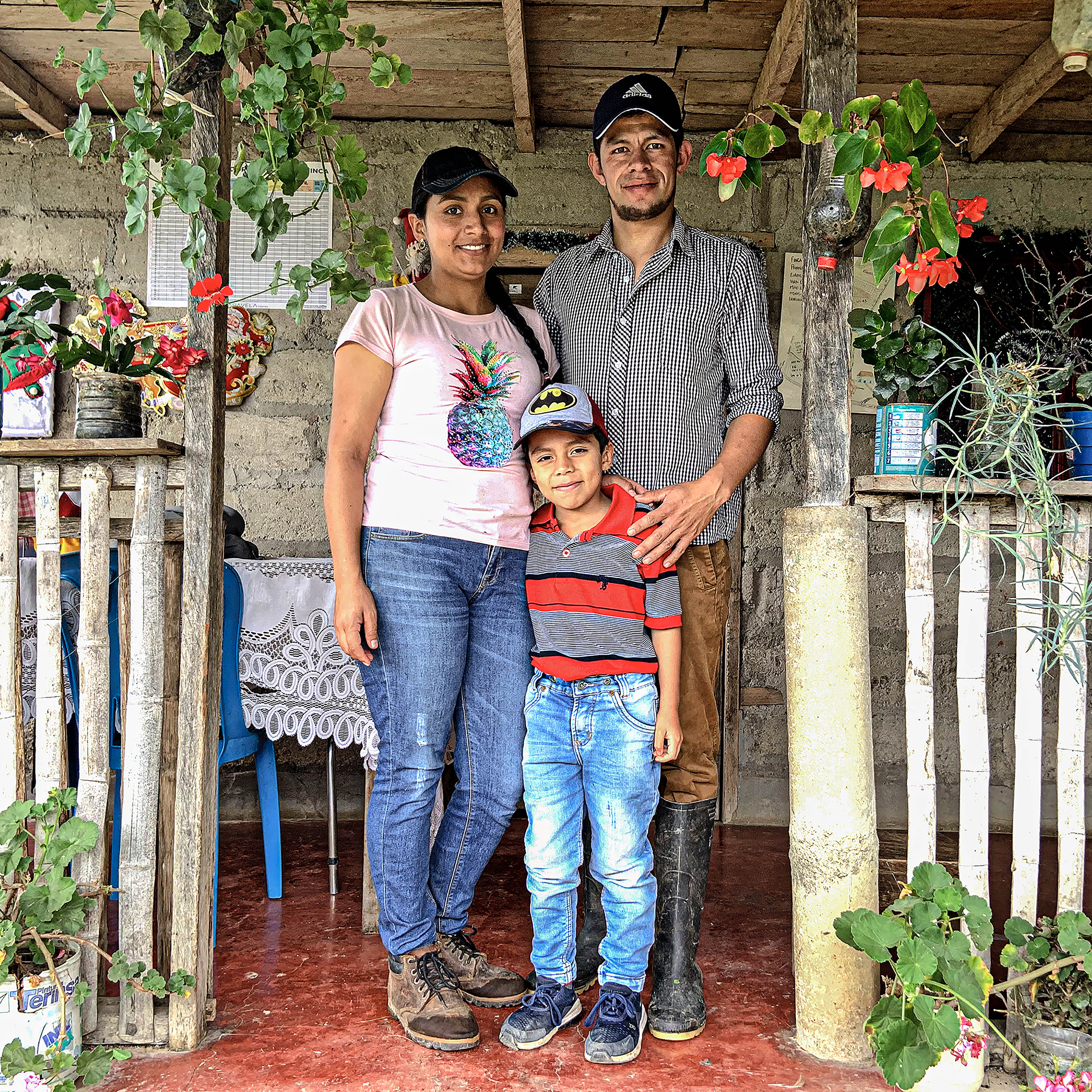 The producers
MEET LUZ
"The idea to sell specialty coffee came about through hearing a commercial on the radio from Global Cafes." says Luz Adriana Campos, as we sit overlooking the sheer slopes of Finca Villa Maria, the 9-hectare farm that she owns and runs with her husband Victor.
Since then, the couple – both in their late twenties, with two children – have worked with the association and their agronomists to continually improve their growing, processing and sustainability methods. One of the results is this stunning microlot. But this only represents a small percentage of their harvest. Because they only have a small area to dry their coffee, some of it will still be sold as speciality, but much of it will be sold as commercial grade coffee without any premiums attached. Their dream is to sell 100% of their coffee as speciality, and the construction of drying beds will help them achieve this.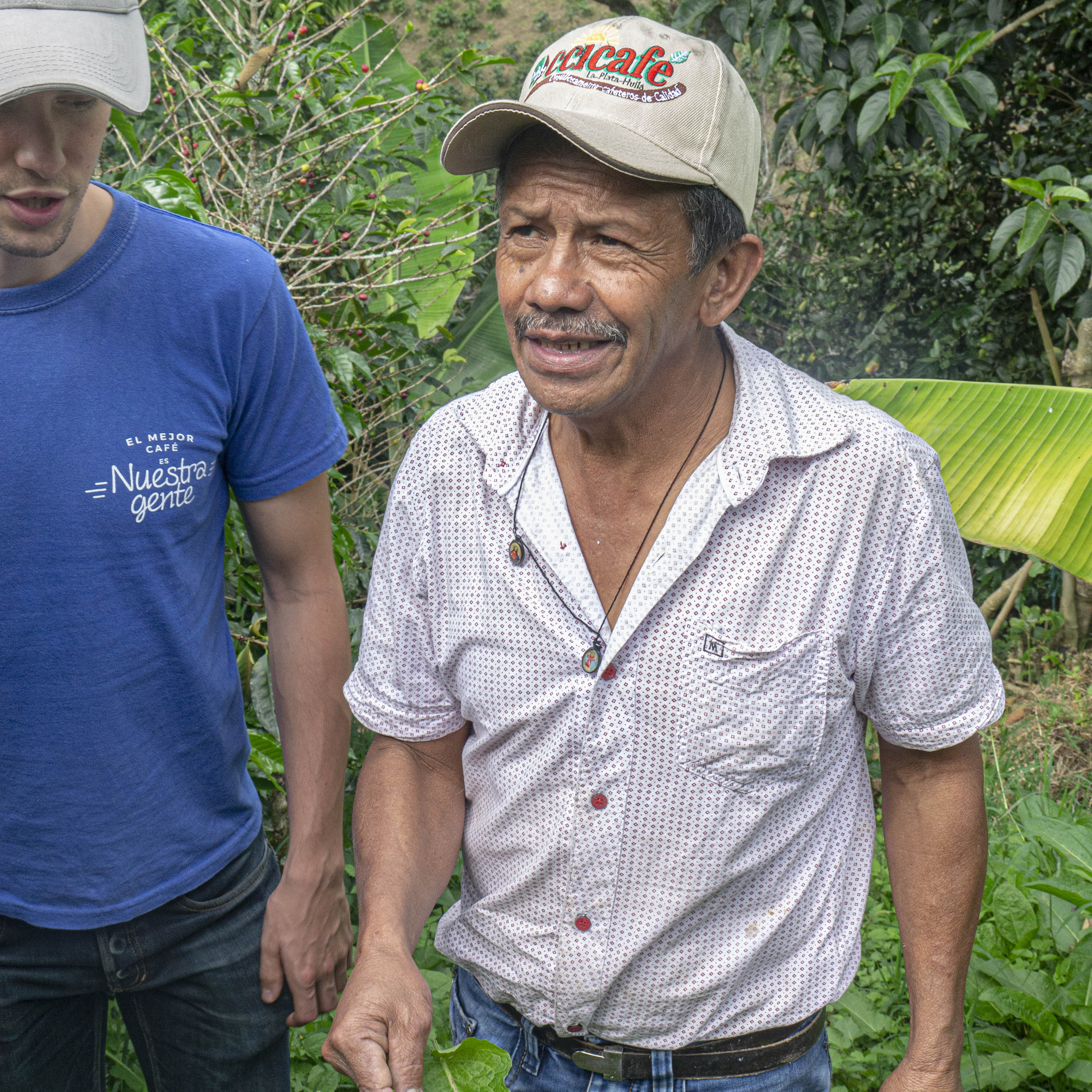 The Producers
MEET SILVIO
Part of the group that founded Occicafe, Silvio Chamorro is a warm, proud, expressive and well-respected figure within the La Plata coffee community. He and his wife Maria have 8 children, all of which are continuing the family tradition, having been taught by Silvio and setting up farms nearby. When we visited Finca Villa Maria recently, we were impressed by its resourceful beauty. With tightly packed rows of Colombia and Caturra coffee trees. All pristinely green and sun-hungry. Bursting with fat, ripe cherries.
But, much like Luz and Victor, an improvement in drying beds would allow them to take their quality to the next level, as Silvio explains: "Well with the help of God this year, and the help of my wife and children, I would like to build another drying area […] Something which I have seen, which is necessary, and I hope we can do… is to create drying beds with mesh bottoms so we can spread the coffee out and the water can evaporate.
How to brew
Silvio & Luz
While equally at home as a well-balanced filter or a bright espresso shot, we particularly love brewing this coffee in a Chemex. Why? Not only does it amplify its crisp, clean acidity but you can brew enough to satisfy the inevitable demand for this crowd-pleaser.