Mundo Maya
Mango, Whisky, Milk Chocolate
Bean

Single origin coffee beans

Origin

San Antonio Chicharras, Chiapas, Mexico

Process

Natural
Our next roast is in - order before then for delivery this week
24hr tracked / letterbox-friendly delivery

Roasted to order every Tuesday
Delivery Info
All our coffees are roasted to order, and right now, we roast once a week on a Tuesday. On Wednesday morning we taste all the roasts that are due for delivery to check they're tasting great before sending them out.
Delivery is £2.95 or free for orders over £20. Our delivery service is Royal Mail Tracked 24, meaning delivery time averages 1 working day. Your coffee will likely arrive on Thursday, but occasionally Friday. If your coffee doesn't arrive within this time frame, then get in touch at hello@taylorsofharrogate.co.uk
We have recently added a 240g bag option to all our coffees, but we don't yet have labels for these bigger bags across our entire range. While we manage this transition, if you order a 240g bag of certain coffees in the range, you may receive 2 x 120g bags 
ingredients
100% Arabica Coffee Beans. For maximum freshness, drink as soon as possible. If you have any left, just reseal the pack and keep in a cool, dark place. Roasted and packed in the UK by Taylors of Harrogate, HG2 7LD.
Mexico isn't yet well known for producing speciality coffee, but producers like our long-term partner San Antonio Chicharras are beginning to change that reputation, with a conscious effort to bring in new varietals, processes and farming techniques.
Described as one of the farm's "jewels", this is an intense and complex natural. With flavours of mango, whisky spice and a brown sugar sweetness, you can expect a full, syrupy body and hints of strawberry and cinnamon in the finish.
Origin

Mexico

Region

Chiapas

Estate

San Antonio Chicharras

Speciality Manager

Pablo Fraire

Process

Natural

Altitude

1200m

SCA score

87.25

Variety

H16

Acidity

Medium

Sweetness

High

Body

Medium
Speciality coffee
IN MEXICO
Mexico's coffee production has historically been driven by smallholder farmers that wet mill their coffee at small beneficios on their own farms, before delivering their cherries to exporters or intermediaries. Up until 2012, the country was the largest coffee producer in Central America, consistently producing more than 4 million bags a year.
But in 2012 the country's crop was hit by the first of successive bouts of Roya (leaf rust), which resulted in several years of steadily decreasing volumes. In recent years, the country's crop has recovered. And inspired by its first ever Cup of Excellence 2012, this renewal has been marked by a wave of enthusiasm to produce speciality grade coffee, particularly in the Chiapas, Oaxaca and Veracruz states.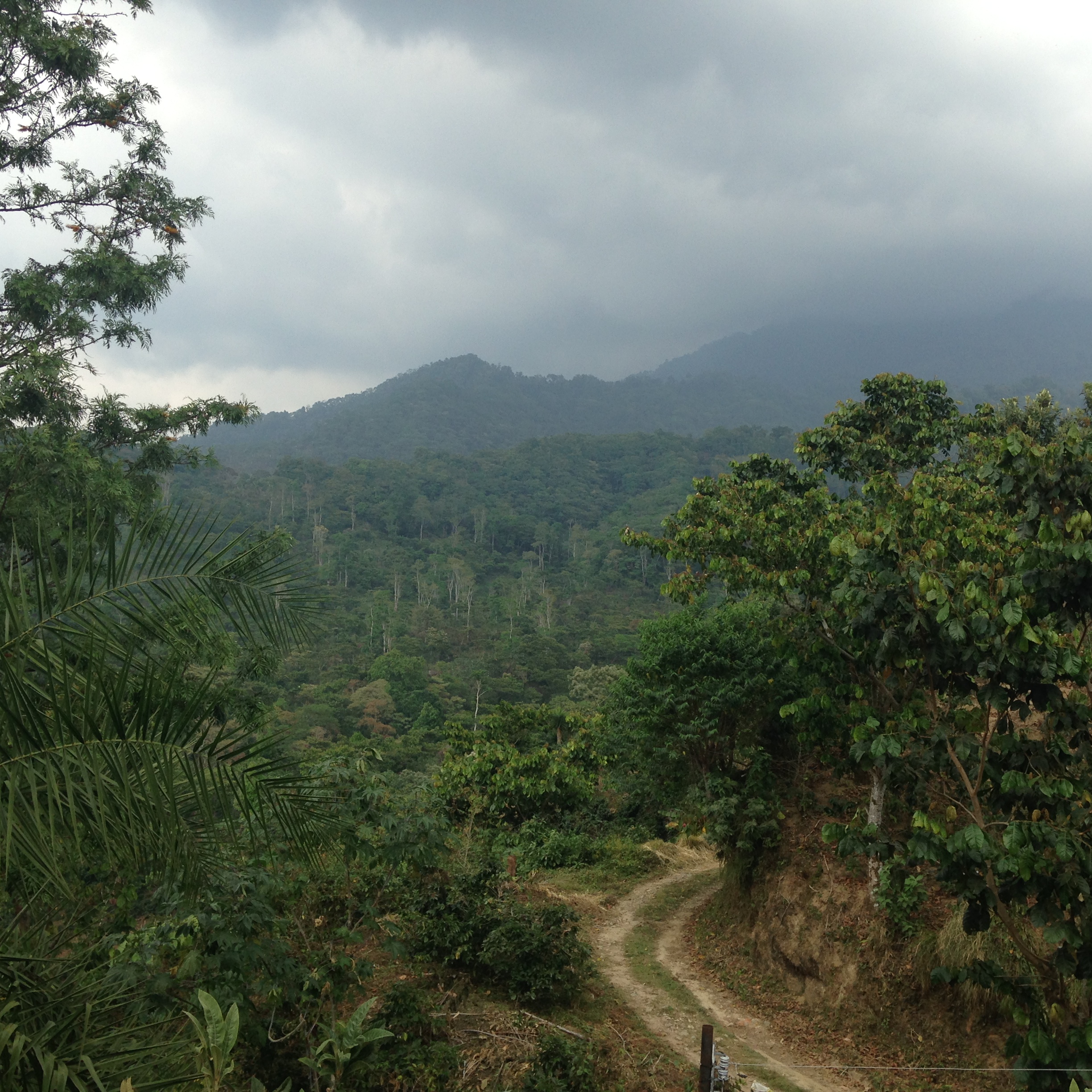 The Producer:
SAN ANTONIO CHICHARAS
Both RA and UTZ certified, San Antonio Chicharras is located between 1,000 and 1,300m above sea level in Chiapas, a state with a dramatic landscape covered by mountainous highlands, dense rainforest, ancient Mayan archaeological sites and Spanish colonial towns.
It's a significant and impressive operation, with housing, a school, canteen and church to accommodate its 400 workers, most of which come from across the border in Guatemala. Alongside 2 other farms in the region, we have a long-term contract in place with them to buy decaffeinated coffee for our supermarket range, but it's only very recently that we've been exploring their ability to produce more unique, high-scoring, small lots like this one.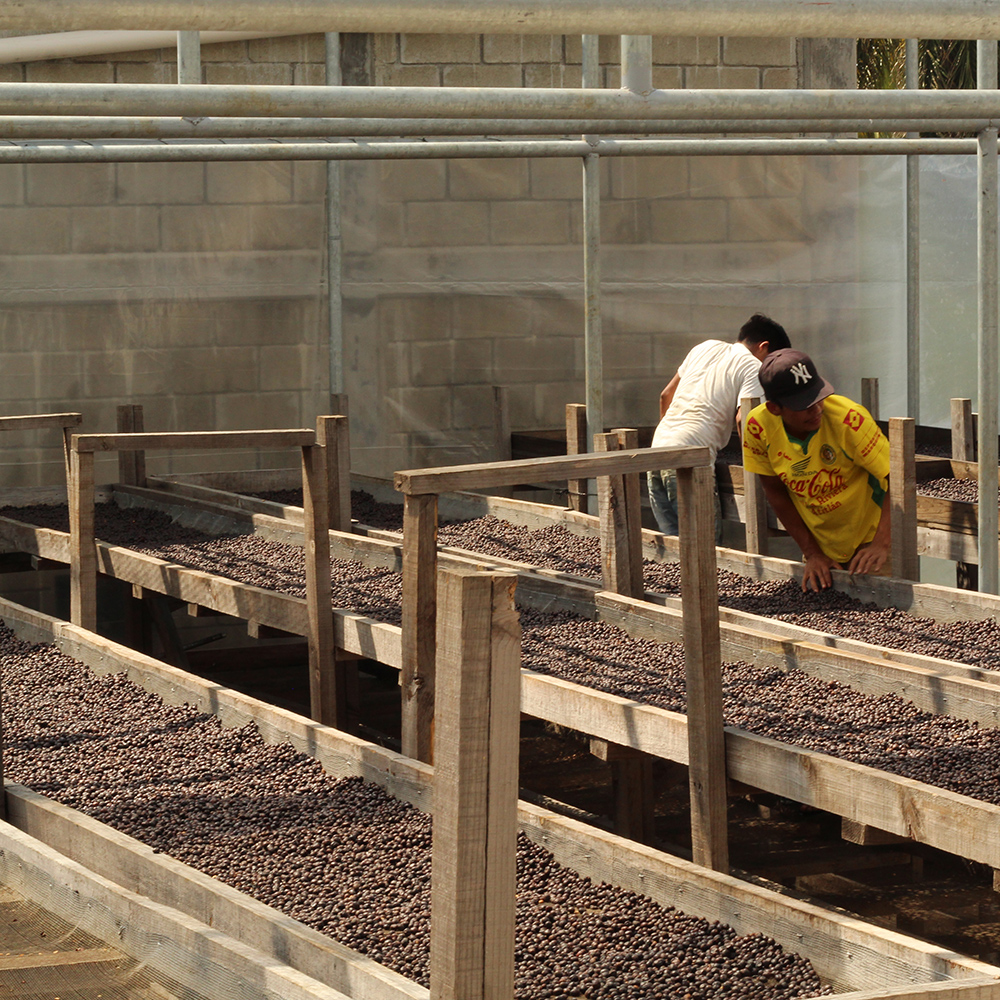 The Producer:
SPECIALITY PROCESSING
Pablo Fraire, who manages the speciality side of the farm, explained this evolution to us: "After the problem we had with the rust leaf, we started to renew our plantations in 2013. During the 2015/2016 crop we began to see our numbers grow, so much that we started to have an excess of coffee in our warehouses - coffee of excellent quality due to our new varieties Marsellesa, StarMaya, and Hybrids H1 H15 H16 H18.
"In that same year (2015) we began to do our first tests with nano batches of our specialty processed coffee - natural and pulped natural. In the following crop, we invested in infrastructure that could help us formalise production of these processes, and currently, we have more than 2,000 square meters of drying beds in our 2 mills - San Antonio and Guadalupe Zajú.
"During the last harvest 2019/2020, we had in all the farms, as a formal production, the following processes: natural, honeys, fully washed, and extended underwater fermentation."
How to brew
Mundo Maya
It will taste great brewed with any of your favourite filter kit, but for us, the cup profile shone through particularly well in an Aeropress as it payed respect to the coffee's complexity while maintaining that all important juicy body.